Well, with the release of the Death Jester and Shadowseer today, it was rather obvious that I was going to acquire some... or a whole load... *ahem*
I took a bit of a risk when assembling the Death Jester (which was mildly annoying because of the way the top of his coat fits in place) because it'll be quite difficult to properly paint his trousers when fully assembled, but eh... I'm a poor painter at the best of times so it'll hardly matter. Either way, stonking model!
Herewith his fellow characters within the Masque: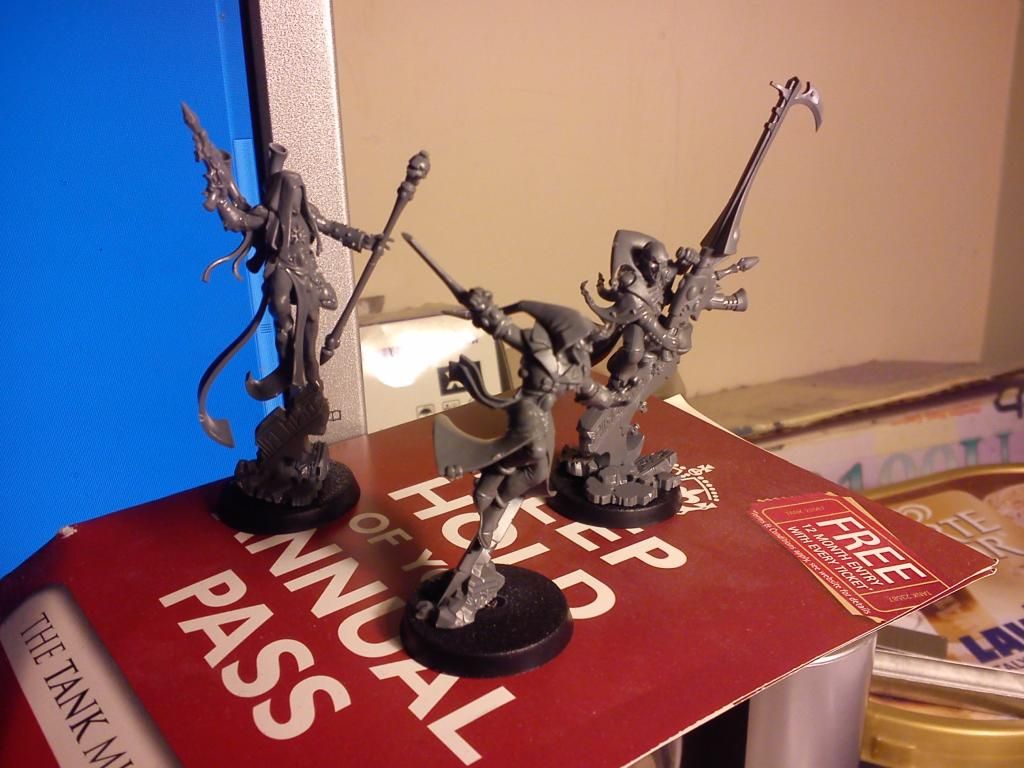 For these three, I'll paint them all side by side and, hopefully, have them as a work in progress here (so long as I remain motivated to do so... chances are, I'll get suckered back by a new release for WarMachine... like yay! Moros is coming soon...! *ugh*). Moving on, both the Shadowseer and the Death Jester are pretty good sculpts, and personally, I consider them better than the Solitaire. The Death Jester is better than its metal/Finecast predecessor in particular, perched on a stone ruin, looking down at its next victim, his shrieker cannon held rather casually. The Shadowseer is also a great model as well, but isn't so different from its older version aside from the weapon option and the scenery. With pinky stuck out on her right hand, though, she's gloriously English!
Still, I like the lot, heroes old & new!
Now to let them make someone weep! -_-